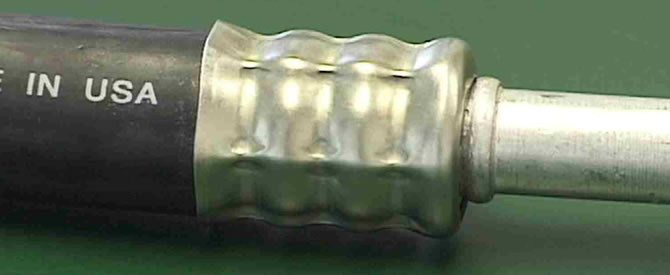 We have the solution for all your AC Repair needs!
Mobile AC Hose Repair Products is a manufacturer and wholesale distributor of parts and shop supplies for auto air conditioning repair as well as hydraulic hose and fittings.
We specialize in easy-to-use, foolproof products for brazing aluminum and steel. We will show you how to use them so handling these situations will not be a headache. We are experts in  finding the auto AC parts you are looking for.
Call us today!
AC Hose Repair Products
We have literally everything for auto and truck air conditioner hoses. Our product lines include Aeroquip hose and fittings, Parker hose and fittings, Goodyear hose, a hose barb for all sizes of suction and discharge hose, including hard to find step sizes, AC ferrules in steel and aluminum, ATCO tube fittings, Manuli hose and fittings, and a hose repair kit.
AC Hose Crimper
We sell the ATCO 3710 AC crimper which will crimp all standard and reduced barrier hoses. We have parts for ATCO and Master Cool AC crimpers including die sets. The Aeroquip EZ Clip, Manuli Quik Clik and Air-O-Crimp tools are all available.
Brazing Rod
Because your car AC repair business requires you to weld barbed fittings to aluminum and steel tubing as well as repair rub holes in AC lines and damage to condensers– we have easy to use foolproof products for brazing aluminum and steel. We will show you how to use them so handling these situations will not be a headache.
Auto Air Conditioning Parts
Auto AC parts not available from your local parts house are our specialty. We have auto air conditioner parts in stock ready for immediate shipment. If we don't have the car AC parts you are looking for we will find them for you. All components of ac systems like compressors, evaporators, and compressors as well as all the other parts required for ac system repair are readily available.
Hydraulic Hose and Fittings
We sell all hydraulic hose and fittings up to and including 2 ½ inch 6 wire hydraulic hose. We will save you money with these US made hydraulic hose and fittings. Our products are the generic equivalents of any brand name products you are using. They are identical in quality but don't have the high cost of brand names.
Radiator Repair
Radiator repair encompasses all types of heat exchangers you will encounter in auto repair. The following are all radiators that you can repair with our brazing rods for aluminum, copper & brass:
Performance & Aluminum Radiator
AC Condenser
AC Evaporator
Copper/Brass Radiator
Transmission Oil Cooler
Engine Oil Cooler
Turbo Intercooler
Charge Air Coolers
Motorcycle Radiators
ATV Radiator
Our brazing rods are easier, faster and cheaper than any epoxy repair kit or radiator epoxy you are using or considering. We will show you how to do these repairs. We have the professional solution to radiator Stop Leak, making radiator leak repair easy and profitable.
Vintage Air
Whether you are restoring, modifying, or customizing a classic car or building a hot rod you will find that you need to fabricate AC lines and find parts which will fit your project. We will help you with this. We can fabricate AC lines, compressor brackets, evaporators, and condensers to fit what you are doing.
Aluminum Boat Repair
We have aluminum boat repair products which are superior to any aluminum boat repair kit, and outperform any aluminum repair epoxy on the market. Our HFR800 aluminum brazing rod is fast, easy and permanent.
Welding Aluminum
When confronted with the problem of joining or repairing aluminum you don't necessarily need to resort to welding or aluminum welding rods. Many holes, tears, and cracks in aluminum are effectively handled without having to know how to weld aluminum, by using a Bernzomatic MAPP Gas Torch and either our HFR800 or AFC1000 aluminum brazing rod. We will instruct you in how to use these products on this website.
How to Braze Steel
Handling AC lines requires the ability to join steel tubing to steel weld on barbs. Our SFC2000 Silver Brazing Rod is the ideal solution, whether you are brazing AC fittings or hydraulic fittings this rod will hold the high pressure. SFC 2000 is a 56% silver, flux core rod. It features a non-corrosive flux core, high silver content and is free of poisonous cadmium. It is a no brainer to use.
Brazing Stainless Steel
Soldering stainless steel is best achieved with a high silver content brazing rod like the SFC2000 Silver Brazing Rod. SFC 2000 is a 56% silver, flux core rod. It features a non-corrosive flux core, high silver content and is free of poisonous cadmium. Our customers use this rod in making various stainless steel repairs. One interesting one is when the cast stainless inlets on sheet stainless tanks break loose they are easily repaired using SFC2000.
Lokring
LOKRING technology has been applied to automotive AC hose repair. We have the LOKRING fittings, coupling parts, tool and supplies.
There will be situations where brazing damaged AC lines in place on buses , motor homes, SUV's  and vans will not be practical and removing them from the vehicle is a long, labor intensive job. Lokring technology will handle these situations with ease.
Fabrication Service
We can custom fabricate virtually anything you may need that is not ready made. We will manufacture AC hoses to your specifications whether you need 1 hose or hundreds of hoses. Call mike to consult.
Tech Support
We have the answers you need for all your AC hose repair needs and our technical expertise will solve those oddball situations you will encounter in your business.  Just give me a call. I am always available to help.
The guiding business principles for Mobile AC Hose Repair Products are "Speed of Service" and "Quality Products." These are our top priorities.
Call 1 (888) 248-0917 today!