Clamp Lock Hose Repair System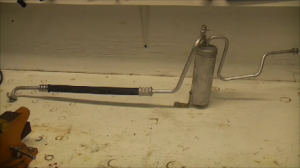 HOSE ASSEMBLY TO BE REPAIRED.
MARKING THE CLOCKING OF THE TUBE SECTION RELATIVE TO THE LINE ON THE HOSE. CLOCKING IS THE ORIENTATION OF THE TWO ENDS OF THE HOSE ASSEMBLY RELATIVE TO EACH OTHER.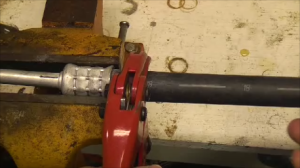 CUTTING AWAY THE OLD HOSE PRIOR TO REMOVING THE FERRULE.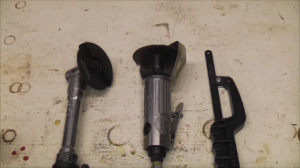 TOOLS USED TO REMOVE THE OLD FERRULE.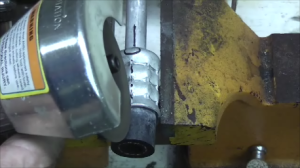 CUT BOTH SIDES OF THE FERRULE. DO NOT CUT DEEPER THAN REQUIRED TO CUT THROUGH THE METAL OF THE FERRULE.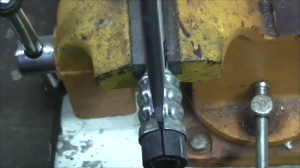 PRY THE FERRULE APART WITH A SCREWDRIVER.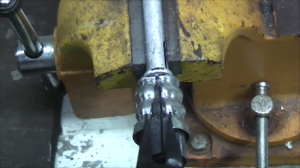 USE REVERSE SNAP RING PLIERS TO SPLIT THE FERRULE.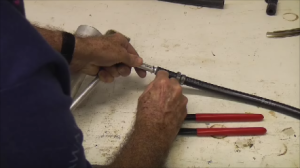 ALIGN THE NEW HOSE TO THE CLOCKING MARK ON THE TUBING BEFORE COMPRESSING THE CLAMPS.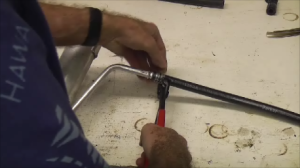 COMPRESS THE CLAMPS.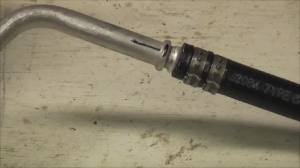 COMPLETED CLAMPING. REPEAT ON THE OTHER END OF THE HOSE.

COMPLETED ASSEMBLY READY FOR INSTALLATION.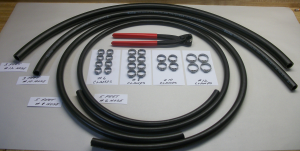 CLAMP LOCK HOSE REPAIR KIT.
ONLY  $96.20 THIS KIT HAS EVERYTHING YOU NEED TO REPLACE THE RUBBER HOSE SECTION OF AN A/C HOSE ASSEMBLY. YOU CAN REPAIR 1-2 #6 HOSES, 1-2 #8 HOSES, 1 #10 HOSE AND 1 #12 HOSE. WHETHER YOU WISH TO SIMPLY HAVE THE ABILITY TO GET YOURSELF OUT OF A BIND DUE TO THE UNAVAILABILITY OF A HOSE ASSEMBLY OR GET YOURSELF STARTED IN REPAIRING ALL THE A/C HOSES THAT NEED REPLACING IN YOUR SHOP-THIS IS THE KIT FOR YOU.
I AM ALWAYS AVAILABLE TO ANSWER ANY QUESTIONS-MIKE
FAA APPROVED FOR HELICOPTER AC SYSTEMS. THIS HOSE SYSTEM IS USED ON LATE MODEL BMWS AND SIMILAR CLAMP SYSTEMS ARE USED IN HEAVY TRUCKS.
YOU CAN CONFIDENTLY REPLACE THE RUBBER SECTION OF ANY HOSE ASSEMBLY .