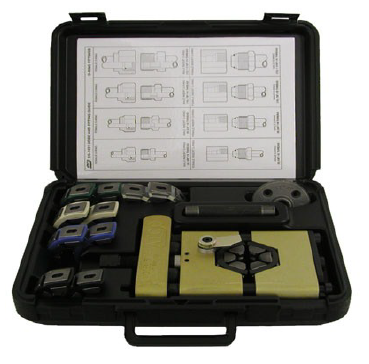 ATCO 3710 Series Crimper – Impact Wrench – $649.80
CONVERT YOUR MANUAL IMPACT WRENCH OPERATED ATCO CRIMPER TO A HYDRAULICALLY OPERATED CRIMPER WITH OUR NEW CONVERSION KIT.
MAKE YOUR LIFE A LOT EASIER.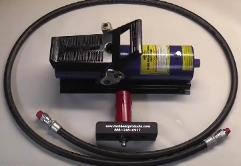 CONVERSION KIT COMES WITH
A NEW ACTUATOR BAR FITTED WITH A HYDRAULIC CYLINDER,
A 10,000 PSI AIR DRIVEN HYDRAULIC PUMP AND 7 FOOT HYDRAULIC HOSE.
SIMPLY REMOVE THE MANUAL ACTUATOR BAR AS SHOWN BELOW AND
REPLACE WITH THE HYDRAULIC ACTUATOR BAR.
CONVERSION KIT $950.00
FOR AN ALL NEW TOOL BUY THE KIT AND
A NEW ATCO 3710 MANUALCRIMPER.
YOUR COST WILL BE $1599.49.
COMPARE THIS TO THE $2,371.42 THE ATCO HYDRAULIC MODEL SELLS FOR
AND HAS AN 8 WEEK LEAD TIME TO GET.
EASY CHANGE OVER -STEP BY STEP PROCESS
REMOVE BOTTOM DIE CARRIER

DRIVE OUT ROLLPINS FROM UPPER DIE CARRIER
UNSCREW STRAIN RODS FROM ACTUATOR BAR

INSTALL STRAIN RODS INTO NEW HYDRAULIC ACTUATOR BAR AND INSTALL UPPER DIE CARRIER WITH ROLL PINS